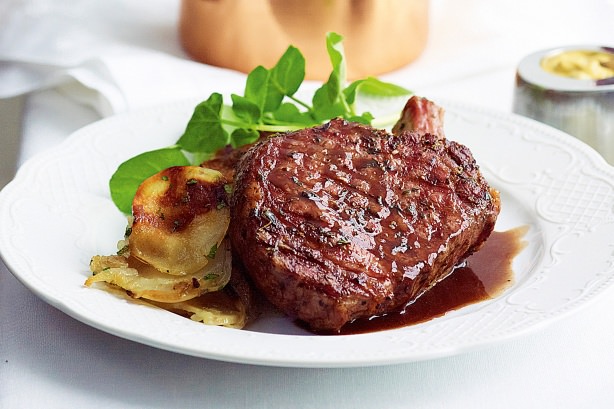 Balsamic Glazed Steak
Ingredients:
2 tbsp. Earth Balance Butter
1 thick Ribeye Steak
Fresh Black Cracked Pepper
1/2 tsp. Sea Salt
1/2 tsp. Gourmet Blends Herbes de Provence Olive Oil
1/2 cup Gourmet Blends Traditional Balsamic
Preparation:
Rinse and pat dry steak. Coat with pepper, sea salt, and balsamic. Cover and put in fridge for 18-24 hours.
Instructions:
Heat skillet with butter and olive oil on med-high heat. Olive Oil burns easier than any other oil I know of, so be sure to keep an eye on the intensity of the flame. Reduce heat to medium and place steaks in skillet for about 4-5 minutes each side. Transfer steaks to a plate and turn flame on low.
Place plate in microwave or cover with aluminum foil to keep warm.
Turn up heat and add another teaspoon of balsamic and butter to skillet, scraping up brown bits. Simmer for 2 minutes and remove from heat and drizzle over steak.
Serve with potatoes and asparagus or your choice of any side.