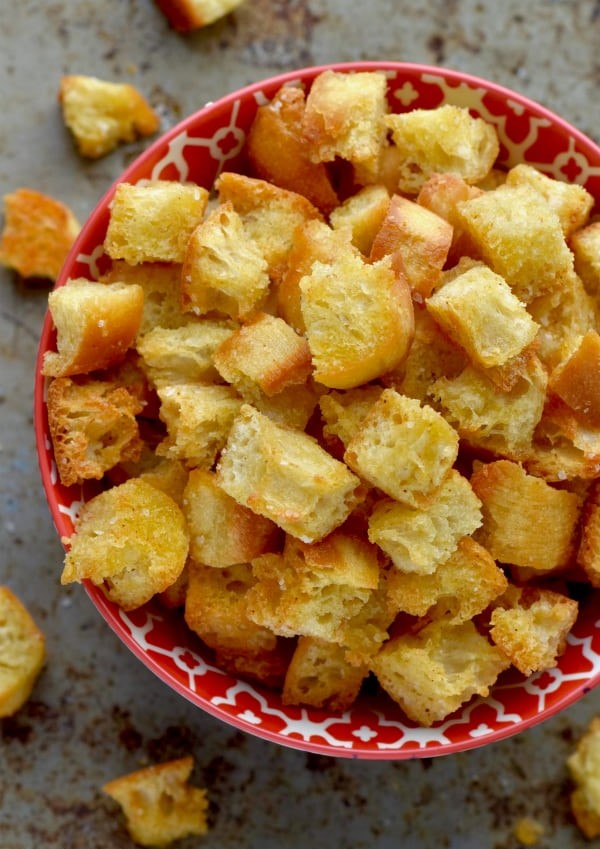 Take your soup/salad to the next level with INFUSED Homemade Croutons
INGREDIENTS
1 loaf of French bread cubed
1/4 c (approx depending on loaf size) Tuscan Herb Olive Oil (or Rosemary Oil or Garlic Oil)
Salt and pepper and/or favorite season blend
DIRECTIONS
Preheat oven to 375°F. Line a large baking sheet with parchment paper; set aside.
In a large bowl, evenly drizzle your choice of olive oil over cubed bread.
Sprinkle the seasoning evenly over the bread &  toss gently until well-combined.
Spread the bread cubes out in a single layer on a baking sheet.
Bake until golden, turn once halfway through cooking in order to brown all sides of the croutons. Cooking time will depend on the thickness of the cubes, so watch to be sure that they do not burn. Should take approximately 10-15 minutes
Remove from oven, and let cool completely. Use immediately, or store in an air-tight container for up to 1 week.