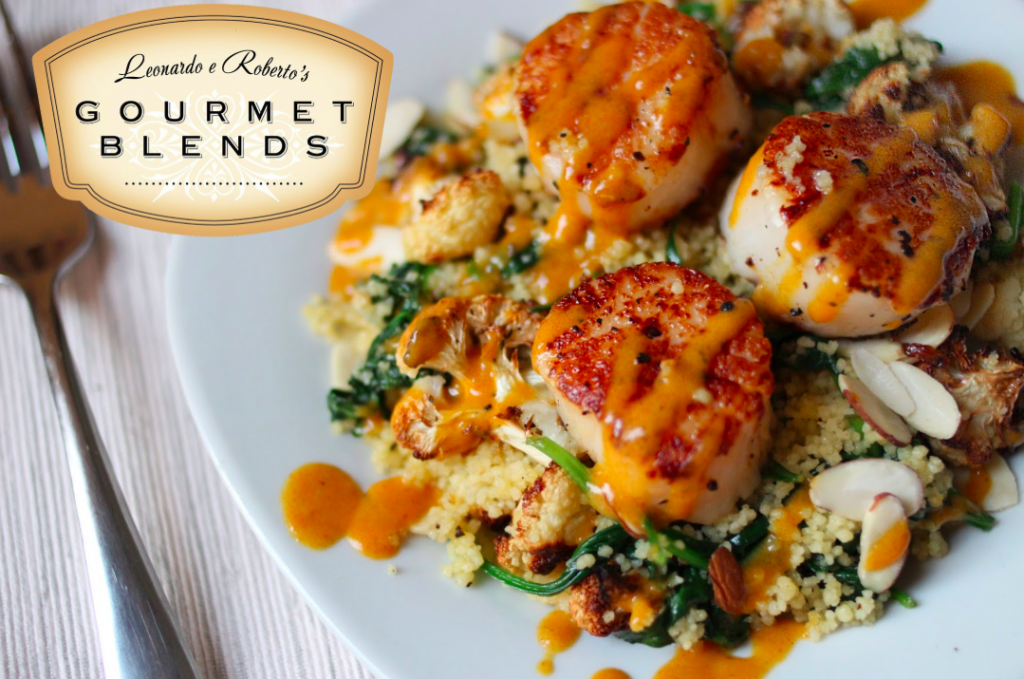 Ingredients:
1 cup couscous
1 cup chicken broth
2 tsp. Gourmet Blends Tuscan Herb Olive Oil
2 cups loosely packed spinach
2 cloves garlic, minced
1 cup sliced cauliflower
2 tsp. butter
12-16 scallops
Sea Salt and Pepper to taste
1/4 cup slivered almonds
Ingredients for Curry Emulsion
1/2 to a full can of coconut milk (13 oz. can)
1.5 tsp. Sriracha
1 tsp. ground coriander
1 tsp. ground cumin
1/2 tsp. sea salt
1/4 tsp. curry powder
Directions:
1. Rinse and dry scallops. Set to side.
Whisk together all curry emulsion ingredients using 1/2 can of coconut milk.  This can be made ahead of time and stored in the fridge.
2. Preheat oven to 425°.
3. Toss the cauliflower slices with a conservative drizzle of olive oil, in the oven for 20 minutes.
4. Cook couscous (the same as you would cook rice) with chicken broth.
5. While couscous and cauliflower are cooking, heat 2 tsp. of olive oil over medium heat. Add minced garlic and cook 1 minute. Add spinach, and stir through olive oil until just wilted. Remove from heat.
6. Toss couscous with spinach in its olive oil. Add cauliflower and slivered almonds.
7. Heat butter in skillet on medium-high heat. Salt and pepper the dry scallops. Add to pan and cook approximately 90 seconds on each side until golden crust achieved on both sides.
8. Top couscous with scallops and drizzle with curry emulsion and enjoy!
This recipe was brought to you by: gingersnaps.com