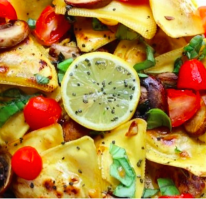 Basil Truffle Ravioli
In a skillet on medium heat, combine:
1 Cloved Minced Garlic
2 Tbsp Gourmet Blends Basil Olive Oil
1 Tbsp Gourmet Blends White Balsamic
1 Package Trader Joe's Porcini Mushroom and Truffle Triangoli
1/2 Lemons worth of juice
2 Pinched Lemon Pepper
Mixing and flipping, cook for 15 min. Garnish with tomatoes, fresh basil, and Black Lava Salt.
Serve and enjoy 🙂
From the kitchen of Kim, The Golden Dionysus.