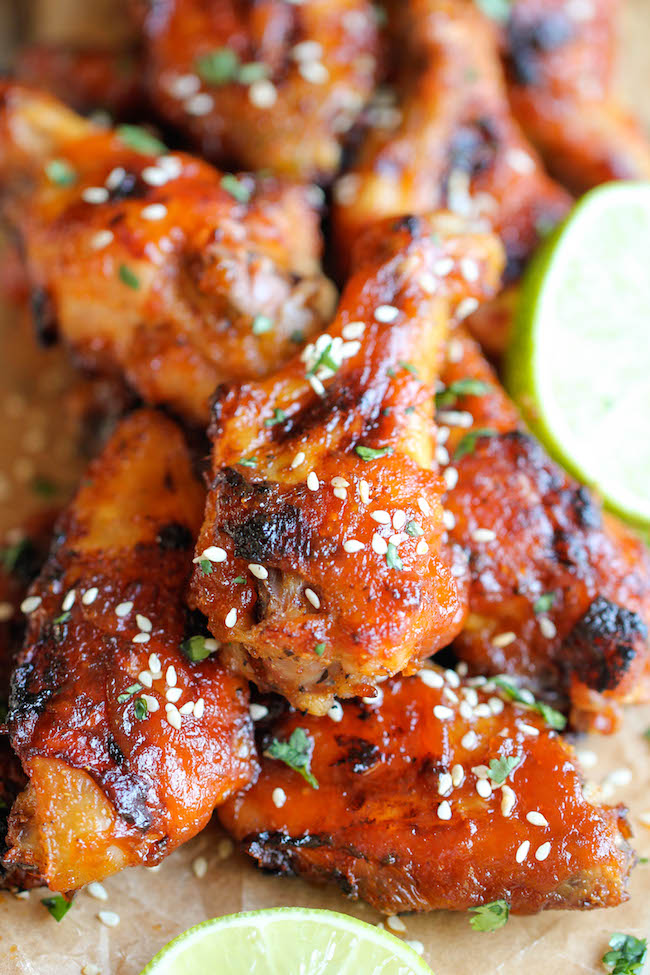 INGREDIENTS
2 lbs. Chicken Wings
2 tbsp. Unsalted Butter, melted
1 tbsp. Gourmet Blends Tuscan Herb Olive Oil
1 tsp. Garlic Powder
Kosher Salt and freshly ground black pepper, to taste
1 tbsp. Chopped Fresh Cilantro Leaves
Sesame Seeds (for garnish)
FOR THE HONEY SRIRACHA GLAZE
5 tbsp. Unsalted Butter
1 tbsp. All-Purpose Flour
1/4 Cup Honey
1/4 Cup Gourmet Blends Sriracha Balsamic
1 tbsp. Soy Sauce
Juice of 1 Lime
DIRECTIONS
1. Preheat oven to 375 degrees F. Line a baking sheet with parchment paper.
2. To make the glaze, melt butter in a small saucepan over medium heat. Whisk in flour until lightly browned, about 1 minute. Stir in honey, Sriracha, soy sauce and lime juice. Bring to a boil; simmer until slightly thickened, about 1-2 minutes.
3. In a large bowl, combine wings, butter, Tuscan Herb Olive Oil, garlic powder, salt and pepper, to taste.
4. Place onto prepared baking sheet and bake for 25-30 minutes, using metal tongs to turn at halftime. Brush wings with Sriracha glaze and broil for 3-4 minutes, or until crisp and crusted.
Serve immediately. Garnish with cilantro and sesame seeds!
Original recipe was brought to you by: damndelicious.net