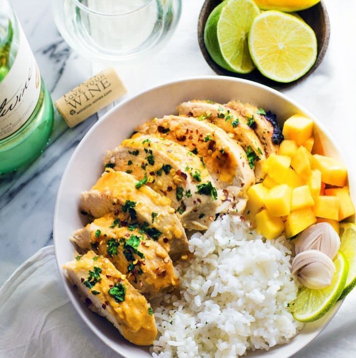 Ingredients:
2 Fillets Organic Chicken Breasts
1 (almost ripe) Mango
1 Lime
1/2 cup Sriracha Mango Balsamic
1 cup Puréed Mango
1 Chopped Shallot
Cilantro for garnish
1 Garlic Clove
Instructions:
Season Chicken with sea salt, juice of 1 lime, fresh black cracked pepper and garlic. Set to side. Pour 1/2 cup Sriracha Mango Balsamic, puréed mango and shallot into bowl and mix until it becomes a thick and chunky dressing. Set to side.Throw chicken on the grill, once it's done, plate it and slice it. Pour dressing overtop, plate with white jasmine rice and chopped mango, garnish with cilantro and enjoy!