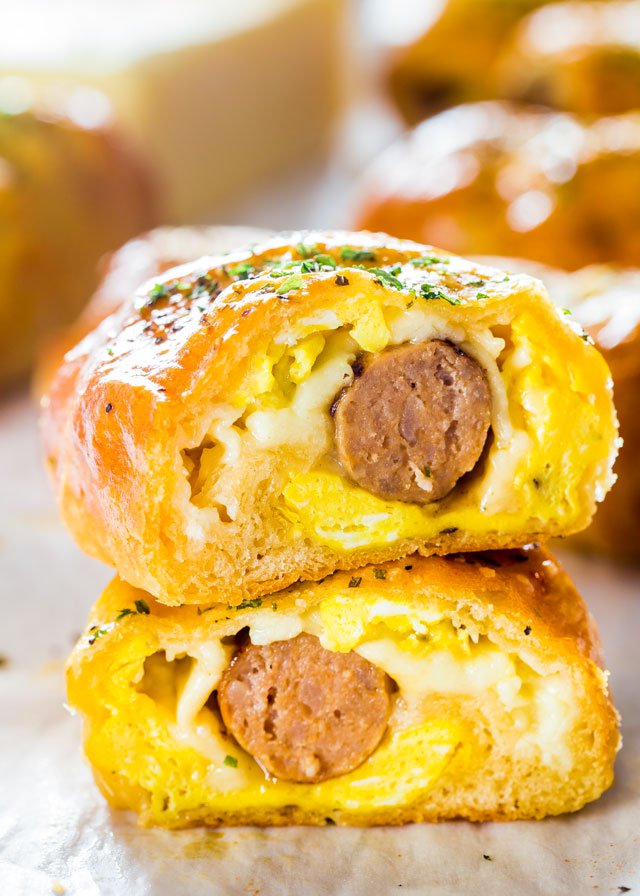 Ingredients
• 1 tbsp Gourmet Blends Tuscan Herb Olive Oil
• 5 eggs
• 8 turkey breakfast sausages fully cooked
• 2 tbsp all-purpose flour
• 8 oz can of 8 Pillsbury crescent rolls
• 2 oz cheddar cheese shredded
• 1 egg beaten for egg wash
• salt and pepper to taste
Instructions
1. Preheat oven to 375 F degrees. Line a baking sheet with parchment paper or a silpat.
2. Beat the 5 eggs in a bowl. Heat the olive oil in a nonstick skillet over medium heat until hot. Pour in the beaten eggs. As the eggs begin to set, gently pull the eggs across the pan using a spatula, forming large soft curds. Continue cooking, pulling, lifting and folding eggs, until thickened and there is no more visible liquid. Remove from heat.
3. Sprinkle the flour onto your work surface then unroll the crescent dough over the flour. Roll it out a bit, if necessary with a rolling pin. Cut the dough into 8 rectangles, by first pinching the seams if necessary.
4. Top each rectangle with a couple spoonfuls of scrambled eggs, some of the cheddar cheese, and a sausage link. Roll up the rectangle and place onto the prepared baking sheet. Repeat with remaining ingredients.
5 Brush each roll with the egg wash, then sprinkle with some salt and pepper.
6. Bake for 15 minutes or until golden brown.
Credit: This recipe was adapted from jocooks.com