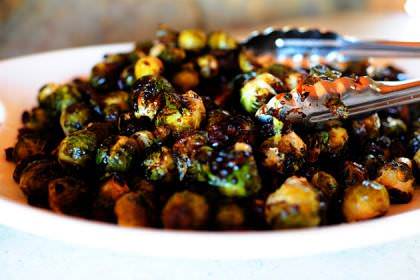 Brussels Sprouts with Balsamic and Cranberries
Ingredients
3 pounds Brussels Sprouts
1/2 cup Olive Oil
Sea Salt And Black Cracked Pepper
1 cup Dried Cranberries
Instructions
Trim/clean Brussels sprouts, then cut them in half if desired (or you can leave them whole). Arrange on two baking sheets and toss with olive oil. Sprinkle with plenty of salt and pepper and roast at 375 degrees for 25 to 30 minutes, or until brown.
Place balsamic vinegar in a saucepan until it begins to boil, then reduce heat to low for about 8-10 minutes.
Sprinkle dried cranberries on brussels sprouts, drizzle the balsamic over the cranberries and roasted sprouts. Toss and serve immediately!
This delicious recipe was brought to you by the wonderful and talented: pioneerwoman