Getting to the root of life's eats never tasted so good.
Ingredients: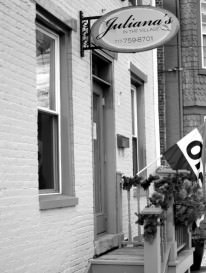 – Parsnips
– Gold Beets
– Carrots
– Turnips
– Olive Oil
– Ancho chili powder
– Kosher salt
– Cumin (a pinch)
– Cayenne pepper (to your taste)
– Dark Chocolate Balsamic Vinegar (enough to coat)
Instructions:
1. Pre-heat oven to 400 degrees.
2. Toss the veggies in a bowl with olive oil, ancho chili powder, kosher salt, a pinch of cumin and cayenne pepper.
3. Add BR Blends Chocolate Balsamic Vinegar and toss to coat.
4. Roast on a sheet tray lined with parchment paper (aluminum foil will do), for 10-15 minutes.
Note from the Chef: any variety of root veggies will do as long as they are peeled and cut into even sizes. Veggies should be tender and caramelized. Cook time will depend on the size of the vegetables. Root vegetables will shrink when roasted so starting with a larger, rustic cut will ensure a better finished product.
This recipe is from the kitchen of Chef Joel Zaldivar: past owner of Juliana's in the Village, Shrewsbury, PA. They specialized in serving food from farm to table. Chef Joel said, "One of our main priorities at Juliana's is offering you the freshest ingredients in all of our menu items. You can check our website daily / weekly to see our new fresh menu items."