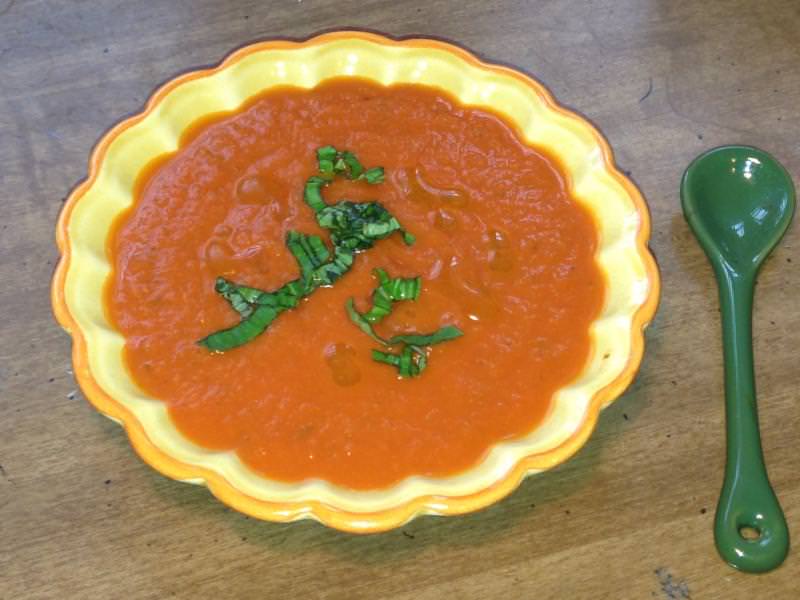 Try Iris' Homemade Tomato Soup with Gourmet Blends Basil Olive Oil.
Ingredients:
2 Tbs. extra virgin olive oil
1 large yellow onion, roughly diced
1 stalk celery, diced
1 medium carrot, diced
2 cloves garlic, chopped
2 bay leaves
1 – 28 oz can  Whole Tomatoes with juices (San Marzano's if possible)
1 – 28 oz can Crushed Tomatoes with juices (San Marzano's if possible)
20 fresh basil leaves, torn
4 cups sodium free chicken stock
1/4 cup whole milk
1/4 cup heavy cream (or half and half)
Kosher salt/fresh ground pepper to taste
Fresh basil leaves and fresh chives for garnish
Instructions:
Saute onion, celery, carrot in olive oil in a stock pot at medium heat till onions are translucent – about 8 minutes –
Then add garlic and bay leaves and saute for 2 more minutes.
Add both cans of tomatoes and chicken stock, basil leaves and salt and pepper and bring to a boil.
Then reduce heat to just above a rolling simmer, cover with lid slightly open and cook for 40 minutes.
Remove bay leaves.
Let it cool slightly.
Puree with an immersion blender.
Correct seasonings.
Add milk and cream, stir by hand till fully combined and bring back to temperature.
Serve hot topped with a few ribbons of julienned basil leaves and chopped chives.
Finish with drizzles of Gourmet Blends Basil Olive Oil.
From the kitchen of Iris Benjamin; food aficionado and co-owner of BR Blends, a proud distributor of Gourmet Blends. Iris' enjoys a hearty tomato soup  Topping it off with Gourmet Blends Basil Olive Oil is the perfect touch. No extra salt too.  What variations do you like to put into your tomato soup? Let us know in the comments below.