Back to products
Raspberry Balsamic Vinegar
Shop our barrel aged traditional balsamic vinegars. Produced in Modena, Italy. Enjoy our citrus and herb infused olive oils. Taste our pairings too.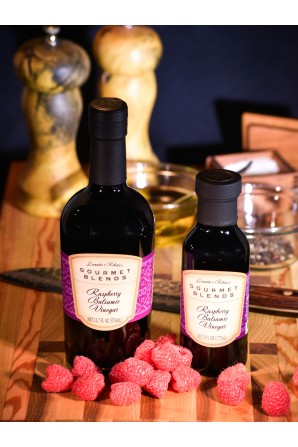 If you like raspberries you are going to love our Raspberry Balsamic Vinegar. It doesn't even need olive oil in a salad.
100% fat-free. Are you ready to take your spinach salad to a whole new level?
Make life easy on yourself and toss together a spinach salad with some feta, gorgonzola, dried cranberries, and walnuts. Drizzle our exceptional tasting classic raspberry balsamic vinegar over the salad and make sure you top it all off with a little bit of diced strawberries and pears. If you don have pears or to add to the "wow" factor of the salad add our Pear White Balsamic.
Great Balsamic Pairing Ideas:
Combine with our Blueberry White Balsamic Vinegar for an extraordinary, one of a kind ice cream topping.
For an extra zing, pair our raspberry balsamic vinegar with one of our citrus olive oils. Pair our Raspberry Balsamic Vinegar with our special Gourmet Blends only Meyer Lemon Olive Oil.
Try our delicious Raspberry Balsamic Recipes.
Click and get more pairing suggestions for balsamic vinegar and olive oils.
Ingredients: Balsamic Vinegar (4.5% Acidity), Raspberry Juice Concentrate, Gluten and Fat Free.
Nutritional Facts: serving size 1 tbsp. (15ml.)
Calories per serving = 49, Fat Cal = 0
Total Fat = 0g
Sodium = 0 mg
Total Carb. = 14g,
Added Sugars = 9g
Protein = 0g
This product is made in a facility that also processes nuts, oils, soy and dairy.
Try Mixing and Matching … Choose 4, 5 or 6 or more delicious flavors, your choice, and enjoy more for less!
✓ Buy 4 small bottles, your choice, and save $7.00 dollars!
✓ Buy 4 large bottles, your choice, and save $10.00 dollars!
✓ Buy 6 small bottles, your choice, and save $18.00 dollars.
✓ Buy 6 large bottles, your choice, and save $30.00 dollars.
✓ Buy 7+ bottles, your choice, and continue to save!
✓ Get the Gourmet Sampler pack (six three ounce bottles, your choice).
✓ Order now from our multi-pack offers below.
✓ Remember, FREE SHIPPING for any order $99 dollars or more!
---