Back to Events
&nbsp
Date / Time
December 6, 2019 until December 8, 2019
10:00 AM - 6:00 PM
Location / Map
Dulles Expo Center
4335 Chantilly Shopping Center
Chantilly, Virginia 20151
Event Description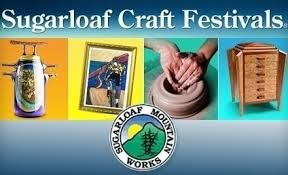 Sugarloaf Craft Festivals are a delightful immersion in the work of carefully selected artisans who have spent years perfecting their crafts.embodying beauty, originality and utility. You'll find unique and functional designs made out of wood, stone, metal, fabric, clay and one of a kind clothing designs. Also featured are incredible gourmet food items such as aged imported balsamic vinegars and olive oils and the best maple syrup ever. Do your holiday shopping here.
Schedule
Dec. 6-8 2019
Dec. 6 & 7 – 10-6pm
Dec. 8 – 10-5pm
Booth TBA, Iris Benjamin – brblends@gmail.com
Learn more about this event.
Get Directions
Loading Map....