Back to Events
&nbsp
Date / Time
October 12, 2018 until October 14, 2018
10:00 AM - 5:00 PM
Location / Map
Maryland State Fairgrounds
2200 York Road
Lutherville-Timonium, Maryland 21093
Event Description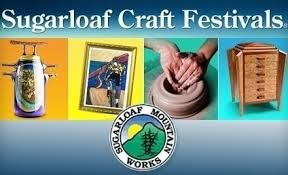 Join us at the Sugarloaf Craft Festival one more time October 12 – 14, 2018! Enjoy a few days of a high end crafts festival featuring unique artisans creating fine jewelry, wearable art, accessories, furniture, ceramics and gourmet specialty foods. Sugarloaf Craft Festivals embodies the work of carefully selected artisans who have spent years perfecting their crafts. Goods sold here embody both beauty and utility and can be expected to last for a very long time. You'll find whimsical and functional designs made out of wood, stone, metal, fabric, clay and more. Gourmet specialty foods, both imported and domestic, are a main attraction, prominently featured.
Look for our distributor's booth, #349 . Ask for Iris Benjamin. She can be reached at brblends@gmail.com.
Schedule
Oct. 12-13: 10am – 6pm
Oct. 14: 10am – 5pm
Learn more about this event .
Get Directions
Loading Map....